Mūsų VILNE
"Neveltui Vilnius buvo pavadintas Lietuvos Jeruzale. Vilniuje buvo jaučiamas tautos sostinės alsavimas. Čia jungėsi visos dvasinio tautos gyvenimo gijos."
Ben-Cijon Dinur
"Vilnius is called Lithuania's Jerusalem intentionally. It is here that you could sense the nation's capital thriving. This is where the threads of the nation's spiritual life interlinked."
Ben-Cijon Dinur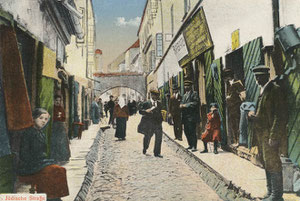 Vilniaus vardą su pagarba ir meile taria žydai Prancūzijoje ir Rusijoje, JAV ir Pietų Afrikoje, Argentinoje ir Izraelyje. Kitas nedaug apie Vilnių težino, bet tikrai yra girdėjęs Vilniaus Gaono vardą ir kartojamą apibrėžimą, kad Vilnius-tai Lietuvos Jeruzalė. Dažnas savaip suvokia šio pasakymo reikšmę, bet kiekvienas sieja Vilnių su šventu Jeruzalės vardu.
The name of Vilnius is spelled out with appreciation by Jews from France, Russia, USA, South Africa, Argentina and Izrael. You may not know much about the city but you probably have heard about the Vilna Gaon and the expression that Vilnius is Lithuania's Jerusalem. This is open to interpretation but the link between Vilnius and the sacred name of Jerusalem remains.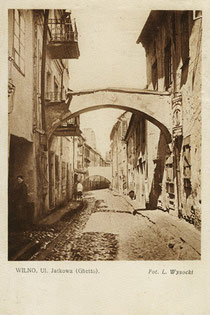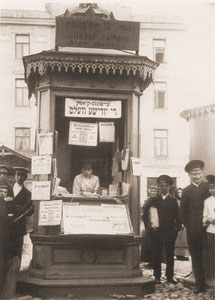 Be pavadinimo / No titles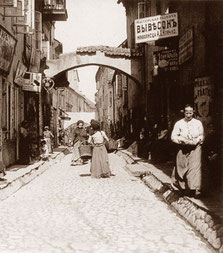 Mėsinių gatvė (dabar M. Antokolskio) apie 1900m.
Mėsinių street (now M. Antokolskio). Around 1900.
Bus daugiau...
More coming soon...