Vilniaus atvirukų leidyba XIX a. pabaigoje - XXa. pradžioje
Praėjo šiek tiek daugiau nei 100 metų, kai buvo išleisti pirmieji Vilniaus vaizdų atvirukai. Atvirukų leidybai buvo panaudotos žinomų to meto Vilniaus meistrų Juzefo Czechowicziaus, Johano Hiksos, Jano Bulhako ir kitų fotografijos.
Pirmasis atvirukas pasirodė 1869m. spalio 1-ąją Austrijos-Vengrijos imperijos sostinėje. Naujovė greitai paplito įvairiose šalyse. Vokietijoje ji pavadinta Postkarte, Prancūzijoje-Carte Postale, Rusijoje-Открытое писмо (atvirlaiškis). Pirmieji iliustruoti atvirukai Rusijoje išleisti 1894-1895m., o Vilniuje seniausi žinomi su 1897-ųjų pašto atžymomis.
Pirmuosius Vilniaus vaizdų atvirukus pačioje XIXa. pabaigoje išleido knygynų, dailės ir kanceliarinių parduotuvėlių savininkai. Spausdino juos Vokietijos, Švedijos, Rusijos bei Lenkijos spaustuvėse. Aptinkami atvirukai su Waclovo Makowskio, Juzefo Zavadzkio, Klaros Rio, Davydo Vizuno pavardėmis.
Vienas pirmųjų Vilniaus atvirukų leidėjų buvo Rio. Nuo 1866m. Klara Rio įsikūrė Vilniuje. Būtent su jos vardu išleisti Vilniaus vaizdų atvirukai, datuojami 1897m. Juos spausdino A. Sala Berlyne.
Kitas garsus Vilniaus atvirukų leidėjas-Davydas Vizunas. Jis išleido daugiau kaip 400 numeruotų atvirukų, albumėlių ir rinkinėlių, turinčių atskirą numeraciją.
1904-ųjų rudenį įvykdžius pašto reformą, pakito atviruko išvaizda. Adreso pusė vertikalia linija padalyta į dvi dalis. Laikantis Pasaulio pašto konvencijos reikalavimų ankstyviausieji buvo leidžiami su prancūziškais pavadinimais. Vėliau rusų, rusų ir lenkų, lietuvių kalbomis.
Išskirtinai atvirukai, leisti lietuvių kalba po 1904-ųjų, panaikinus spaudos draudimą. Tuomet pradėjo kurtis lietuviškos knygų leidimo draugijos, ėmė veikti lietuviškos spaustuvės Vilniuje, Rygoje, Peterburge, Seiniuose ir Kaune. Vilniuje tokius atvirukus leido Petras Vileišis, M.Davainis-Silvestraitis, Marija Piaseckaitė-Šlapelienė bei kiti.
Vilniaus leidėjai leido vis naujesnius ir įvairesnius atvirukus, panadaujant meninę fotografiją ir spausdindami geriausiose to meto spaustuvėse. Gražiai apipavidalinti ir informatyvūs leidiniai turėjo paklausą. Jų išliekamoji vertė mūsų krašto istorijos, kultūros, urbanistikos ir knygotyros studijoms nenuginčijama.
Dalia Keršytė
Lietuvos nacionalinis muziejus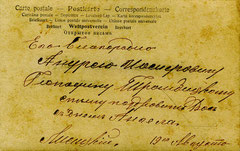 Publishers of Vilnius Postcards, late 19th c. - early 20th c.
The first postcard in history appeared in 1869 October 1st in the capital city of the Austrian-Hungarian empire and soon spread all over the world. In Germany it was called Postkarte, in France - Carte Postale, in Russia - Otkrytoje Pismo...
The oldest known illustrated Vilnius postcards bear the post stamps dated 1897. The works by well-known masters of photography of Vilnius such as Juzef Czechowicz, Johan Hiks, Jan Bulhak were used. Postcards with views of Vilnius were published by German, Swedish, Russian and Polish publishers. In Vilnius they were distributed by owners of bookshops, art and similar shops, photographers, newspaper owners, societies and various organizations. Klara Rio, David Vizun, Abraam Fialko, Antoni Zukowski, Wladislaw Borkowski and Boleslavas Stadzevičius were amnogst the first and most well-known publishers.
After the postal reform of 1904, the appearance of the postcard changed. The address space was divided into two parts by a vertical line. Upholding the World Postal Convention requirements the earliest postcards were published with French titles. Later they were published in Russian, Russian-Polish, Lithuanian languages.
The most distinct are the postcards published in Lithuanian language since 1904, after the Lithuanian press ban. This marked the development of Lithuanian book publishing associations, with Lithuanian printing presses beginning their work in Vilnius, Riga, Petersburg, Seiniai and Kaunas. In Vilnius, amongst the most well-known were publishers Petras Vileišis, M. Davainis-Silvestraitis, Marija Piaseckaitė-Šlapelienė.
Vilnius publishers, adapting to the market requirements, distributed newer and more varied postcards, which were printed in the best printing shops of the time and were in great demand. They have retained undisputed value to the study of the Lithuanian culture, history, urban development and book publishing.
Dalia Keršytė
Lithuanian national museum